If you're doing DTC, you know how quickly things can change. It can be tough to stay on top of everything happening in the industry.
That's why we've scoured social media to find the most insightful and inspiring DTC tweets out there, so you don't have to!
Whether you're looking for tips and tricks on how to build a successful DTC brand, or simply want to keep up with the latest happenings in the industry, we've got you covered.
Let's dive in!
Don't do This With your Welcome Flow
When we came across this tweet from Monica Grohne we knew it was too good not to share.
She talks about an experience she had with a certain popular mobile phone case company where she signed up to their email list to get a discount code, but then received a welcome email with the code nowhere to be seen and no way to redeem the offer.
And she was not happy.
Moral of the story – make your email offers as easy as possible for your customers to claim!
Check out the full thread here.


Missed Opportunities


In this thread, Toby Waller (Managing Partner at Brick) talks about the opportunities that a lot of DTC brands tend to miss out on – like not using Post Purchase Surveys.
PPS can give you super useful information about your customers and their buying experience so that you know exactly how to make improvements and what decisions to go with in the future!
The best questions to include on your PPS according to Toby are:
How long did you know about us before placing your first order?

Did anything almost stop you from purchasing?

What would you like to see more of from us?

Where/when did you first hear of us?

Who are you purchasing for today?
If you need more inspiration, you can read the whole thread here!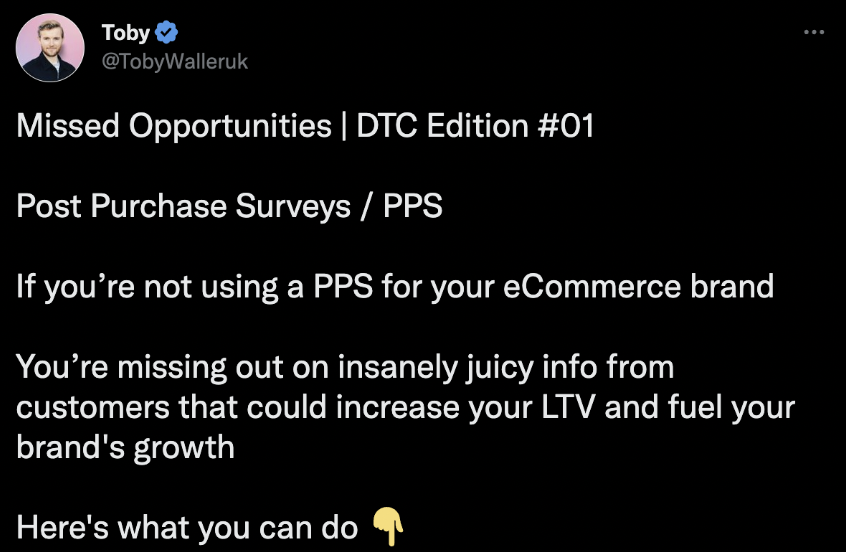 Creating an amazing customer experience


In this thread, Ryan McKenzie (co-founder of Tru Earth) talks us through the 10 things you can do to create an amazing customer experience.
You can read it in full here – but for now, we'll give you the cliff notes version.
Make customer service your #1 priority

Have a loyalty program in place

 Be proactive with feedback

Invest in great packaging

Make customer service accessible

Make customers feel special & valued

If a customer has a bad experience, do everything you can to make it right

Put user-experience first

Reduce buyer's remorse

Build post-purchase anticipation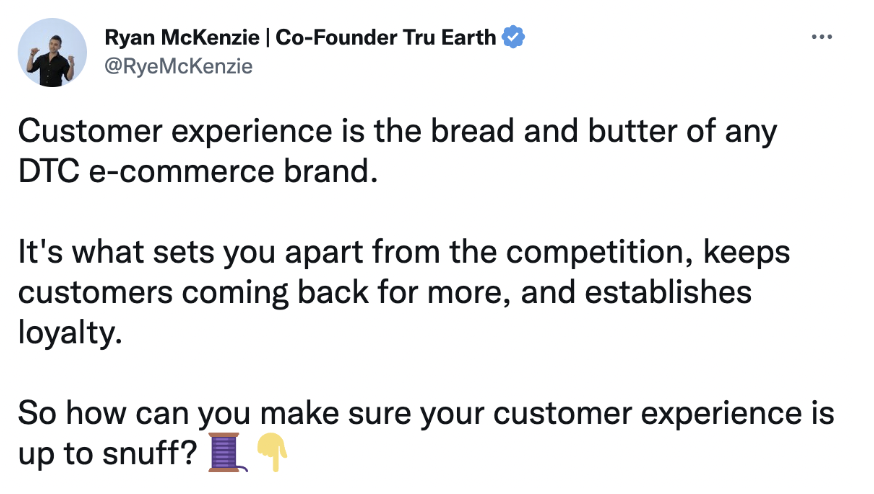 How many emails to send


In this thread, Danavir Sarria (DTC Email Expert), shares the best way to know exactly how many emails you should be sending out to your mailing list.
In the past, it was a case of either asking around to see what other marketers were doing, or experimenting with how many emails you sent out each week and hoping for the best.
Nowadays there are far easier ways to go about it, usually involving some kind of software that does all of the hard work for you. 
Danavir's personal fave is a tool called Varos, which you can read more about in his thread here.