In 2023, we've witnessed some seriously cool movie collaborations that have shaken up the marketing game. 
In this blog, we're exploring this year's most remarkable movie partnerships. From our favorite video game characters stepping into our daily routines to heartwarming reunions between beloved brands, these campaigns have rewritten the rules of co-branding.
Let's dive in!
Lush x Super Mario Bros
Lush joined forces with Nintendo's The Super Mario Bros Movie to launch a limited-edition range of products based on the beloved characters from the video game!
Featuring a Princess Peach body spray, Mario and Bowser shower gels and a mystery Question Block bath bomb, this collab is guaranteed to power up your bathing!
This partnership beautifully shows the impact of connecting with customers on a personal and nostalgic level. By infusing childhood memories with everyday products, Lush and Nintendo are creating lasting connections with their customers! 
Pizza Hut x TMNT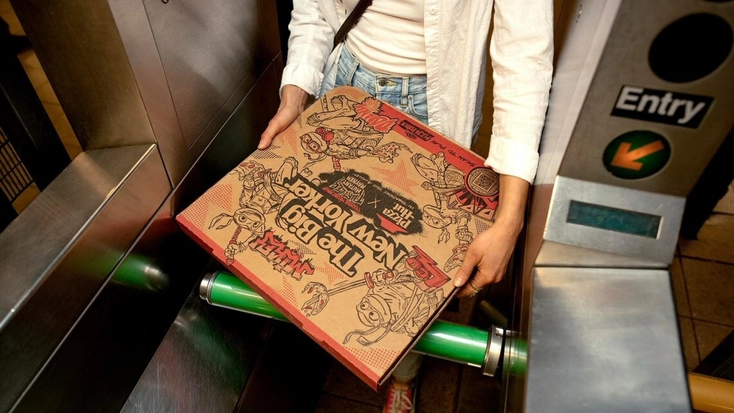 Pizza Hut teamed up with TMNT to celebrate the release of their new Mutant Mayhem film by deliver pizza to fans via subway – just how our favorite heroes in a half shell like it!
Pizza Hut and Teenage Mutant Ninja Turtles have a longstanding history that goes back to the '90s – so the two partnering up together again for a new generation is simply a no brainer!
This innovative partnership serves as an inspiring example of how brands can creatively engage with their audience by combining elements of nostalgia, pop culture, and unconventional marketing methods!
Barbie x Beis
To celebrate Barbie on the big-screen, Mattel teamed up with luggage brand Béis to launch an exclusive collection of suitcases, bags and luggage tags – all dipped in signature Barbie pink!
This collaboration is nothing short of iconic! The Barbie pink effortlessly transforms Béis' sleek luggage designs into a bold fashion statement that's sure to turn heads at every airport.
This Mattel and Béis partnership perfectly showcases how nostalgia, when thoughtfully paired with sophistication, can breathe new life into classic icons and create products that capture the hearts of both lifelong fans and newcomers.
Fancy starting your own co-marketing campaign? Head to shopswap.com to get started for free!