In the food and drink industry, brand partnerships can be the key to culinary innovation and unlocking new and exciting flavors!
In this blog, we'll be exploring three tasty food and drink partnerships that changed the game and introduced each brand to a new hungry audience.
From unexpected culinary pairings to groundbreaking flavor combinations, these collaborations are a treat for any foodie or marketing enthusaist.
Let's dig in!
Perfy x Country Archer x Cheddies
Perfy, Country Archer and Cheddies launched a mouthwatering giveaway, giving their customers the chance to win a delicious bundle of their drinks and snacks!
With Perfy's innovative flavors, Country Archer's top-quality jerky and sticks, and the cheesy goodness of Cheddies Cheese Crackers, this collab is bound satisfy any craving. 
By giving away their products as prizes to their partner's audiences, these brands gain invaluable exposure! It's a super savvy strategy that turns snack time into a win-win for everyone involved.

Talea x Fishwife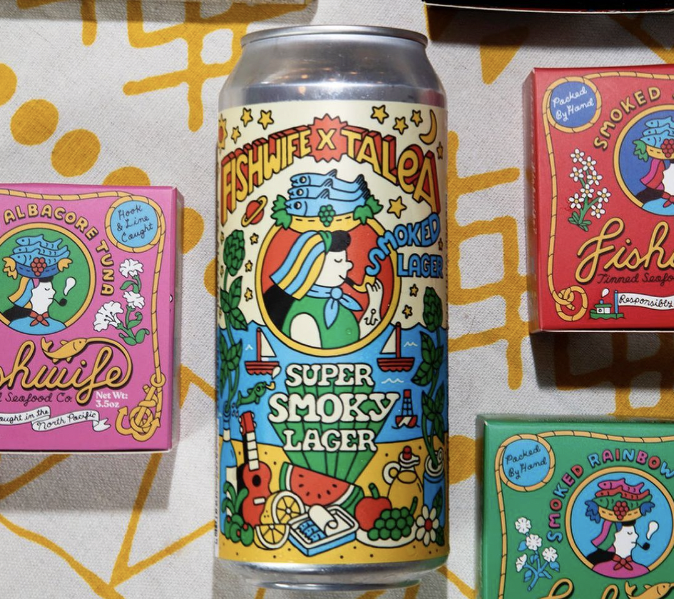 Talea and Fishwife, both innovative female-founded brands, teamed up to craft a special collaboration beer can that's both a visual masterpiece and a taste sensation!
Made with applewood-smoked malt, Talea's Super Smoky Lager Beer is designed to pair perfectly with Fishwife's tinned fish. And, the illustrated packaging it comes in is feast for the eyes too.
By combining their talents, Talea and Fishwife have crafted more than just a beer – it's an immersive experience! It's a perfect example of how collaboration can bring new products that stand out from the ordinary and enhance the customer journey.
Jeni's x Lonely Ghost
Jeni's Ice Cream and Lonely Ghost teamed up to create a new Double Dough ice cream flavor with a sprinkling of apparel!
Created to help you 'melt into the moment', Jeni's new Double Dough flavor was made with delicious chocolate chips and buttery brown sugar… Perfect to enjoy whilst lounging in Lonely Ghost's capsule collection of cozy, uplifting sweatshirts and tees!
Jeni's Ice Cream and Lonely Ghost's partnership beautifully demonstrates how the simplest pleasures can forge deep connections! It's a reminder that collaborations can create experiences that not only tantalize the taste buds but also warm the heart. 
Fancy starting your own co-marketing campaign? Head to shopswap.com to get started for free!